Not sure if you guys are keeping up with the recent hate on reddit about the SBMM (Skill Based Match Making) tweak that Treyarch did. but here is a tweet from today explaining the scheduled events. I didn't even notice it because it wasn't up long.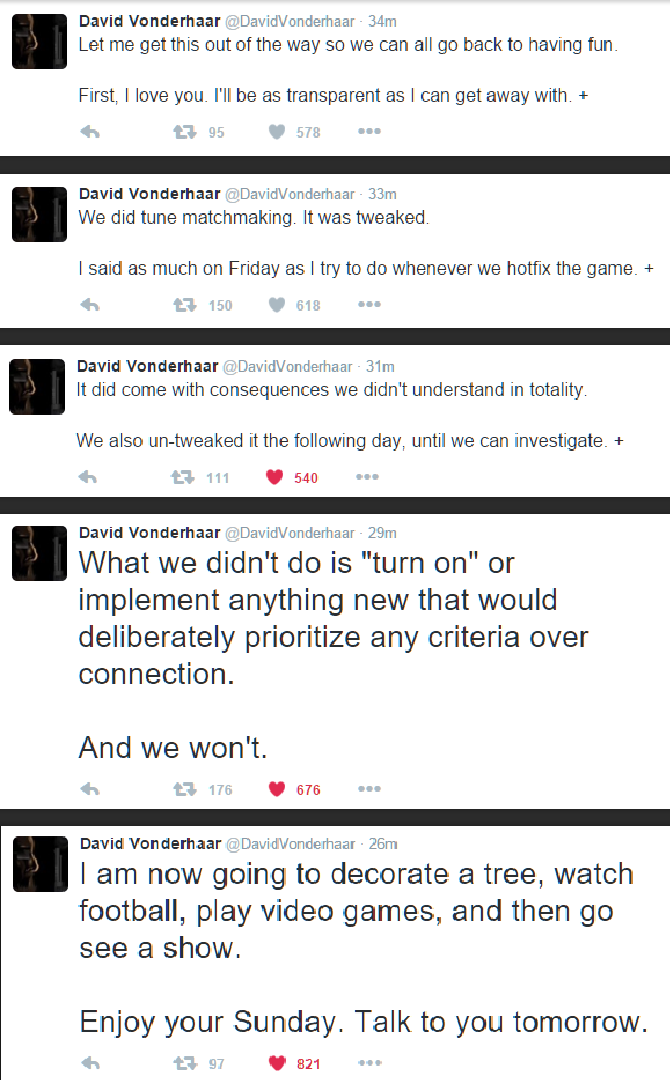 http://www.gamepur.com/news/21537-call-duty-black-ops-iii-dev-quietly-re-introduce-skill-based-matchmaking.html
Captain





Posts

: 1567


Join date

: 2013-04-30


Age

: 27


Location

: WEATHERFORD, TX


GamerTag

: S7 COOP



Interesting. I've been putting quite a bit of time into CoD lately and compared to other big games (such as Halo) the overall match quality is pretty poor. It's not consistent, but every several games I'll get to glitch around everywhere and watch a light show on the connection bars. Only a few times, but the worst are the slow-mo games. Where the 5 second countdown literally takes 30 seconds.
Still, good to see they're at least away of issues that happen and avoid making things worse!

_________________
Clan History: R6 Vegas XO, Chromehounds XO, GoW 1 GC, Homefront XO, GoW 3 GC, Halo 4 GC, COD Ghosts Warrant Officer
***Pwning OC since 2/5/2006
Colonel





Posts

: 7925


Join date

: 2010-02-28


Age

: 28


Location

: Spokane, WA


GamerTag

: AtrumX




---
Permissions in this forum:
You
can
reply to topics in this forum